Ideal For Transit & Storage
THE STRONGEST KUDL-PAK® EVER!
Cameras
Cam Corders
Meters
Gages
Precision Tools
Optics
Models
Computers
Displays
Antiquities
Artifacts
Glass
Hand Guns
Electronics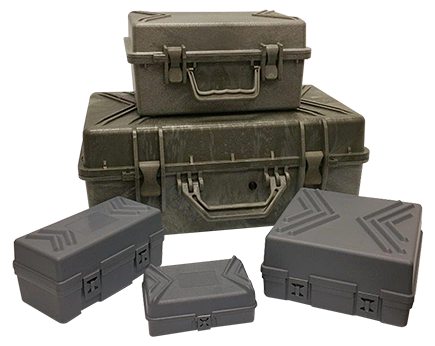 SUPERB PROTECTION FROM: IMPACT • AIR/MOISTURE • VIBRATION
Specifications (Specs.) Legend
A – CASE: Injection molded polypropylene.       Standard color: slate gray.  Hinges and Hasps are integrally molded parts of case.
F – Label Area: 1 3/8″ x 2″
G – Label Area: 1 5/8″ x 2 1/2″
P – Filler Cushion: Flexible polyurethane foam, two convoluted pieces, charcoal color.
U – Hasp: Button snap, one per case.
V – Hasp: Blade snap, two per case.
Melmat Inc. is a reliable supplier of cases stock and custom since 1971.   KUDL-PAK®  and SpaceCase™ are available in stock.  Standard and custom foam inserts are produced inhouse with precision.  Corrugated Plastic fabrication of bins, boxes, divider sets, totes and more.  Serving a variety of industries for more than 48 years to ship, store, protect and present.
Available in stock colors: Grey; Conductive plastic construction is available on special order.